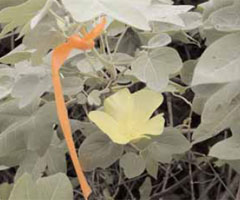 Ma'o (Gossypium tomentosum) Shrub
Another valuable service we now offer is Plant Surveying for habitat conservation & restoration projects. We offer our environmental expertise & experience with native ecosystems and their needs to assist in:
Plant Species Identification – including all native plant species, as well as many invasive non-native plants present within sample area
Accurate Plant Tallies – number and relative location of each plant species within sample area
Environmental Recommendations – course of action recommendations based on information discovered throughout the survey
Global Information System (GIS) Compatibility – data can be collected in a format consistent with this new & highly effective "Vegetative Mapping" system
With our guidance, not only will you know exactly which native plants are present in your particular sample area, but also how many of each there are, their relative locations, any threats to their survival, and the course of action
to best ensure the success of your conservation and/or restoration efforts. Added only recently to our list of services,
we have already conducted surveys at:
Marine Corps Training Area Bellows (MCTAB) – plant surveys performed in conjunction with the private firm Geo InSight to map out existing plant species in an undeveloped section of military land in Waimanalo
This is a crucial first step in any conservation or restoration effort to help protect the remaining existing natural
biota, and with our guidance we can assure that your project gets started off on the right foot. If desired, we can propagate plants directly from either seeds or cuttings taken from the actual native flora found at your particular site. Such area specificity will help to ensure the preservation of any slight variations the specific plant species at your location may have evolved.