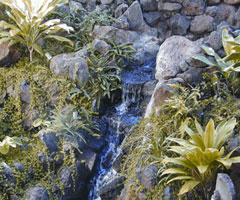 Residential Landscaping
We have further expanded our role in helping to support, restore, and re-popularize native Hawaiian ecosystems
by adding Consulting Services to our ever-growing repertoire. Included in this line of business are Landscape
Consulting and Restoration Consulting services, in which we lend our expertise in such areas as:
Plant Selection – making sure you select the right plants for your designated planting areas with respect to their particular growing conditions and/or limitations
Planting Location– assisting in the difficult task of "what to plant where" with consideration to height & canopy size (both juvenile & adult), shade factors, seasonal morphology, and overall aesthetics to ensure your chosen plants will live together harmoniously& magnificent in their new home.
Planting Density

– from shrubs & ground covers to trees & hedges, we will help you achieve the delicate balance between too sparse & patchy and too dense & overcrowded
Plant Diversity – helping ensure your garden, landscape, or restoration project will have a healthy & natural mix of Hawaiian plants
Specific Care Instructions – providing you with species-specific instructions to ensure your plants receive the conditions they need to flourish, including water & sunlight requirements, fertilization, and pest control measures (if necessary)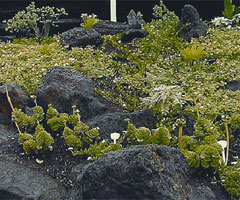 Residential Landscaping
With our help, your Hawaiian plants will thrive in just about any environment Statewide. Since adding this line
of business in 2001, we have overseen numerous projects involving the use of native Hawaiian plants and the
improvement of natural habitat with excellent success. Some of our key partnerships include:
Waimanalo Restoration Corps – assumed management of Waimanalo Restoration Corps for habitat
rehabilitation & ongoing maintenance along three sections of stream in Waimanalo
Kamehameha Schools – hired as cultural landscape consultants for present and future landscaping
projects at all school campuses
Waimanalo Watershed Restoration Plan – hired by the Department of Health to produce a community-based watershed restoration plan for Waimanalo funded by the U.S. Fish & Wildlife Service
Aulani- Disney Resort – hired by Disney to produce a native and Polynesian introduced plant pallet suitable for the grounds and programs for the Aulani Disney Resort at Ko 'Olina.
Many of our valued partnerships are ongoing ventures with outstanding potential to support substantial native habitat restorations. Give us a try and we promise to show you how to make Hawaiian plants work for you!